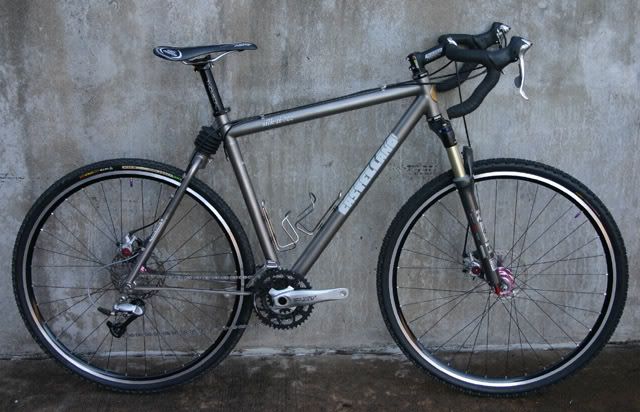 The perfect bike for after a small nuclear exchange. For those who don't know, it's a Castellano (Ibis) Ti Ripley 29er. What you are getting is a one-off, 700c wheeled bike with disc brakes, a shock on the front...and did I mention the fact it's a soft-tail? Those pink hubs are Kings too. The only issue I have with it is the 9 speed drivetrain. Put some D/A 10 speed shifters and cranks on it and I will go rob First Citizens. The asking price...? A mere $5200. Of course, it would take the place of pretty much every bike in the quiver...yet it seems so impactical.
I'm going down to the ManHole tonight to hang parts on the Cannondale for ManDrus. He brought the parts over yesterday and left them on the porch. I was sitting on the couch and never heard him. He's pretty stealthy for an old guy. It shouldn't take long to get it together. It'll take me longer to run the cables and housings than anything. Ah Campy stuff, how I love you so...
I gave Il Bambino a haircut today. First one. He never protested. It doesn't look all that bad either. At least he doesn't look like a serial killer. I'm just wondering what the H.O. is going to have to say when she gets home...